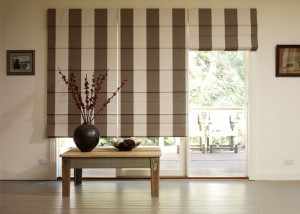 Cleaning Roman blinds is not a demanding job, but it is important to provide your windows with a clean and shiny look. As you know that dust and all sorts of stains are the enemies to the neat and shiny look of your window treatment, so your proper attention is must to maintain the beauty of your product. Several cleaning tips may ease the cleaning routine and prolong the life of your interior design products. The choice of the right technique is determined by the type of blinds you are using now, so it is wise to check the characteristics of the chosen material in the manufacturer's guide to avoid any mistakes.
Here Are Some Widely Used Cleaning Strategies
Dusting off Regularly
Regular dusting of your Roman blinds is a must because the fabrics tend to attract dust. Remember, the point is, the less you clean your products the more dirt is collected on its surface and it may become very hard to remove it over time. So, in order to avoid this issue, you may use a feather duster to wipe off the head rail. The use of a vacuum cleaner is must to provide your product with a more thorough cleaning. Gently sweep the surface of the Roman blinds while making sure that you clean all the parts of your products equally.
Removing Stains Using Mild Detergents
Before you think to use a particular cleaning technique to clean your product, make sure the fabric is washable and it would not diminish its quality after the treatment. You are recommended to check the manufacturer's specifications guide to find whether is labeled P or not. Once you do it, you can proceed to the next step i.e. dry cleaning. If there is a problem in this regard, it is wise to continue with the stain removal. You can opt for using the white cloth to avoid any unwanted mixing of colors and a very mild detergent.
Steam and Dry Cleaning Technique
 If you are not sure whether you should go with using the Roman blinds cleaning process on your own without making things worse, it is a good idea to choose a dry cleaning technique. As mentioned above, there are a few sensitive fabrics which are labeled P, which actually stands for dry cleaning only. Thus, you would like to use this technique to deal with these kinds of fabrics to be on the safe side.