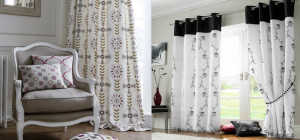 For a very long time, roller blinds have been appreciated by budget conscious homeowners. All those young graduates who have recently shifted into new apartments also prefer to decorate their home with a beautiful range of these blinds. The wide availability of a trendy, custom designed blinds is now a popular choice of many a home decorators over the myriad of other window treatments. Here is a quick look at their long lasting popularity:
Simple And Easy Mechanism – A kind of simple roller is used in the making of these products. The roller, which the fabric wraps around, is now linked to a simple pulley system which anyone can use, be it a young person or an old one. The simple and easy mechanism is all about allowing individuals to use the product easily and operate it in a matter of seconds. Hence, there is a very little chance of anything going wrong. And, in case, if any kind of repair or maintenance you need to do with it, you will not have to call a professional. Yes, you can do it on your own.
Wider Choice- Roller blinds are available on the market in different fabric choice and offers great convenience to the person who wants to use these products. For example, "washable" fabrics like vinyl will work well for your bathroom or kitchen areas. However, for any other areas of your household property, you can choose the product made of other different fabrics, ranging from velvet and silks to polyester and cotton, depending on style and the budget required. You can also find a great selection of these blind products for student apartments of children's bedrooms.
Affordability – This is of course another most important factor why more and more individuals now want to use these home or office decorating products. Available in an extensive variety of designs and color patterns, the roller blind products is available at a very lower price range. When it comes to the installation cost, you will have to pay much lesser as compared to use the wooden venetian blinds.
Maintenance – The cleaning and maintenance of roller blinds are the easiest and convenient of all the window treatment alternatives available on the market. Just using a few wipes with a soft brush, you can remove any dust accumulated on the blind. It is also advisable to use the damp cloth to remove any of the most stubborn stains.
These are the important reasons why people use roller blinds to improve their interiors in Dubai and other parts of the countries.