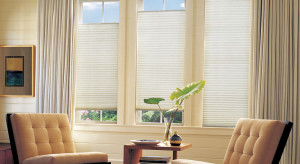 Window dressing is one of the most important aspects you need to consider when you are giving final touch to your home décor. It is advisable for you to pay extra attention while looking for new HOME DECORATING IDEAS. Don't worry about the budget, since market has a number of options with different designs, styles and price ranges. Simply put, window treatments like blinds play a very important role in emphasizing the individual character of the place.
Choosing the right style and color of window dressing options will surely make the room welcoming and comfortable.
Window Treatment Option In White Color Is Preferred By Many
In general, most home decorators like to install white colored window dressing options, as it always comes with a CLEAN AND BEAUTIFUL APPEARANCE. White blinds are the timeless and versatile window treatment products that provide a unifying base for the most window designs. White colored products allow decorators to mix it in one room transforming the feel from warm into cold to increase the impact from your window blinds in Abu Dhabi. Fresh, minimal, translucent and light-colored products are the most sought-after and highly effective modern window treatment options.
Available in Diverse Shades and Fabric Textures
These interior design products are available in DIFFERENT SHADES AND FABRIC TEXTURES in Abu Dhabi that allow these products to be blended perfectly with the upholstery furniture to match the apartment's light and mood. You can find venetian blinds in a wide range of vintage-inspired muted colors that will help to add something extra to your property. Choose the color of your product carefully in order to avoid making the room too impersonal.
Check Light Arrangements In Your Room
If you have a confusion which color you should opt for while selecting your final blinds in Abu Dhabi, it is wise to think about what light is your apartment getting from outside. In general, light in your room changes throughout the day. So, check the proper light arrangements in your room when you finalize your WINDOW TREATMENT OPTION.
Conclusion
Choosing a proper window treatment option is as important as the selection of any other piece of furniture items. If you are facing problems in creating a BALANCE VIEW, it is quite possible to overcome it by adorning your window with forgiving blinds in carefully chosen colors. Finally, we can say that the installation of these products can not only improve the look of the home decor, but their usage is much worthy of increasing the value of your house.